THE MISSION OF LEARNING EDGE TUTORING is to contribute to the lives of Chicago-area students through free one-to-one tutoring and academic enrichment opportunities enhanced by caring, mentoring relationships.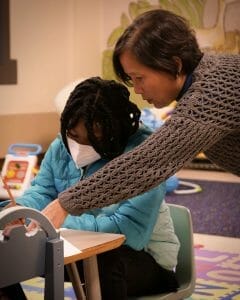 Our Program
Learning Edge (formerly Cluster Tutoring) is a nonprofit, community-based organization that provides free one-to-one tutoring to more than 100 students in grades K through 12 who primarily come from the Austin neighborhood on Chicago's West Side.  The program was founded in 1990 by a "cluster" of local churches and community groups in response to the disturbing statistic that less than half of Chicago Public School students graduate from high school.  Each tutor is matched with a student, and the tutor-student pair works together during the school year to prepare the student for a successful academic career.
Students and tutors work together from the end of September through mid-May on either a Monday, Tuesday or Thursday evening from 6:30 to 8 p.m.  The program has a focus on literacy and employs a Reading Specialist who provides consultation and guidance to tutors, students, and parents. Elementary school students spend 30 to 60 minutes of their tutoring session focusing on improving reading skills such as fluency and vocabulary. The remainder of the evening is spent on homework or other enrichment activities. High school students generally spend all of their time on homework.